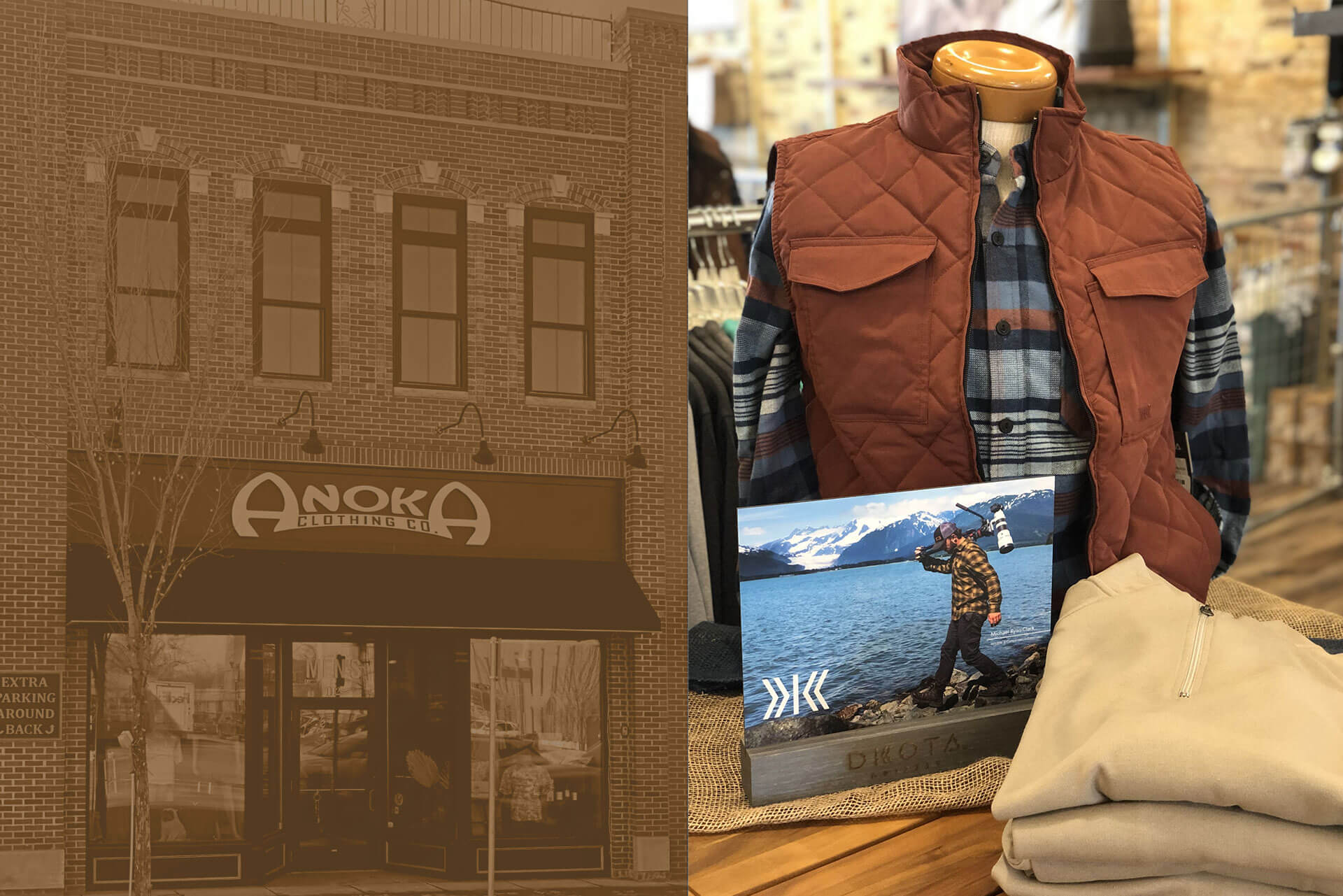 Anoka Clothing Company was established 7/8/2021 by the husband-and-wife team, Jeremy and Liz McFarland. We are a men's store that offers casual attire that includes Dakota Grizzly. It is in a historic Rivertown in Anoka, Minnesota. We are unique in the fact that we are a store within a store! Our store front is part of a long time-established family ran store (Jenson's) of 90 years that carries women's, kids, and juniors. They originally had men's clothing but closed it 14 years ago. The Jenson family approached us in October of 2020 and asked if we would be interested in bringing back a men's store. We immediately said yes! I left my career of 26 years in dentistry (practice management) and started the process. We worked fiercely to find brands and products to fill the space. During that time COVID provided many challenges and then shipping issues later followed. We just celebrated our second year and have learned a lot! Dakota Grizzly is a well-loved brand amongst us and our customers! The design, style, and quality fit perfectly in our store. We look forward to continuing to build relationships while growing our business.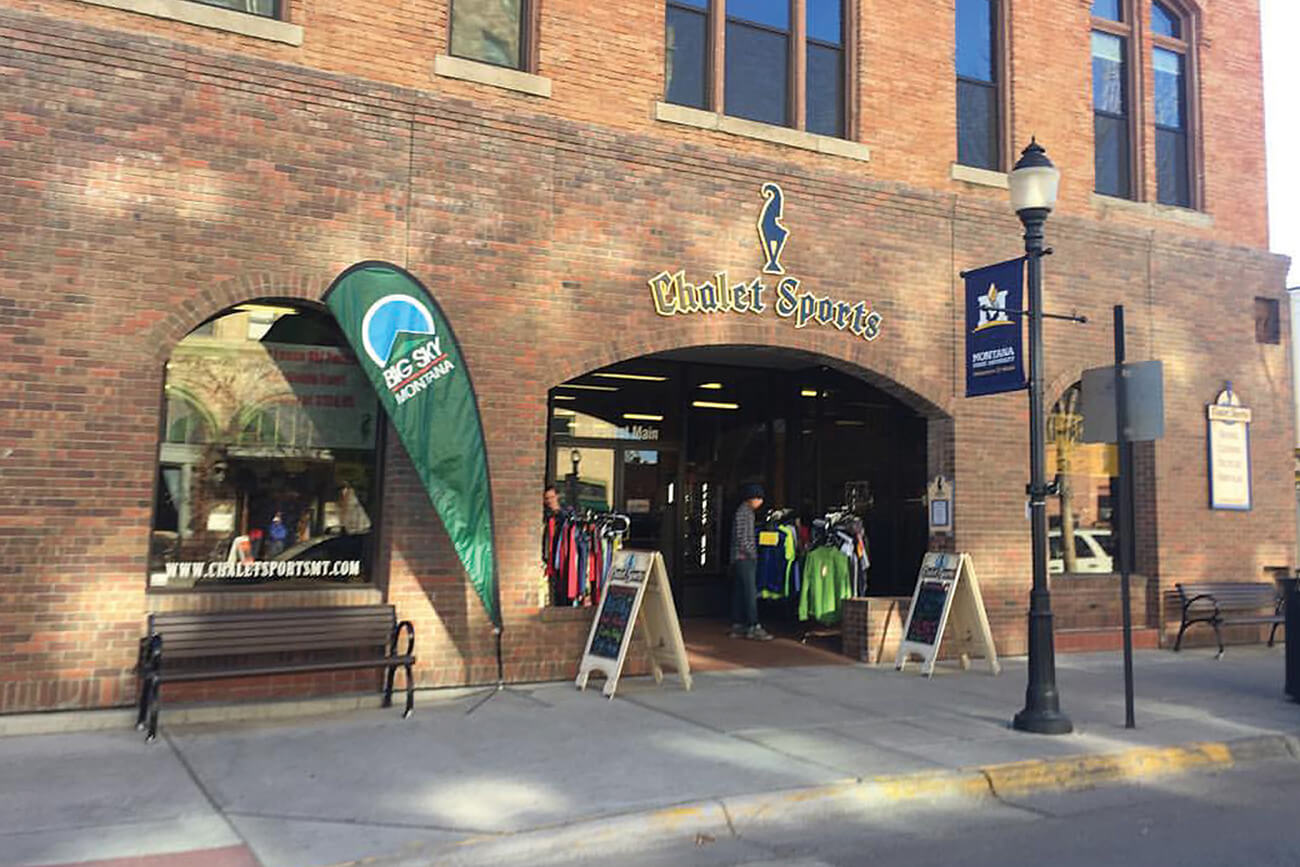 Chalet Sports is a locally owned and operated business located in downtown Bozeman. Opened in 1953 by August "Gus" Gnehm from Switzerland who originally came to the US in 1939 to represent his country at the world's fair in New York. In 1941, on a trip to visit a friend Gus found himself in Montana. Liking the area so much he decided to stayed for a while and coached skiing. On December 8th, 1941 the US joined World War II, and Gus enlisted and was stationed in Colorado.
Here he met his wife, Nikki, and they decided to move back to Montana when the war ended. After working in a local ski shop for a few years, he and Nikki decided to open their own shop called the Sport Chalet in 1953. Their main product focus centered on ski and alpine equipment for the local area.
Gus is credited with bringing skiing to the Gallatin Valley. Keeping this tradition alive has been the mission of Chalet Sports. In 1977 Sports Chalet became Chalet Sports. Still locally owned and operated Chalet Sports is proud to be serving the Bozeman community and surrounding area now are for many years to come. Living in Montana and being surrounded by all the elements that we experience in Big Sky Country brings the inspiration to our business.
Chalet Sports is located on the corner of Main and Willson in Downtown Bozeman. We focus on skis, bikes and clothing along with all the accessories that compliment activities in the outdoors. Product lines are chosen to suit the needs of the entire family for all the seasons.
Our entire staff is proud to offer the finest selection of outdoor gear that will exceed your expectations. Whether you are looking for clothing to look great and keep you warm on the coldest days or a new boot fit that will get you anywhere on the mountain the Staff at Chalet Sports will deliver. Don't forget the top level sales and service with our bike department. A laid back ride around town or the ultimate trip on any of the trails the best ride starts with us.
Remember the rest of your outdoor excitement starts with Chalet Sports.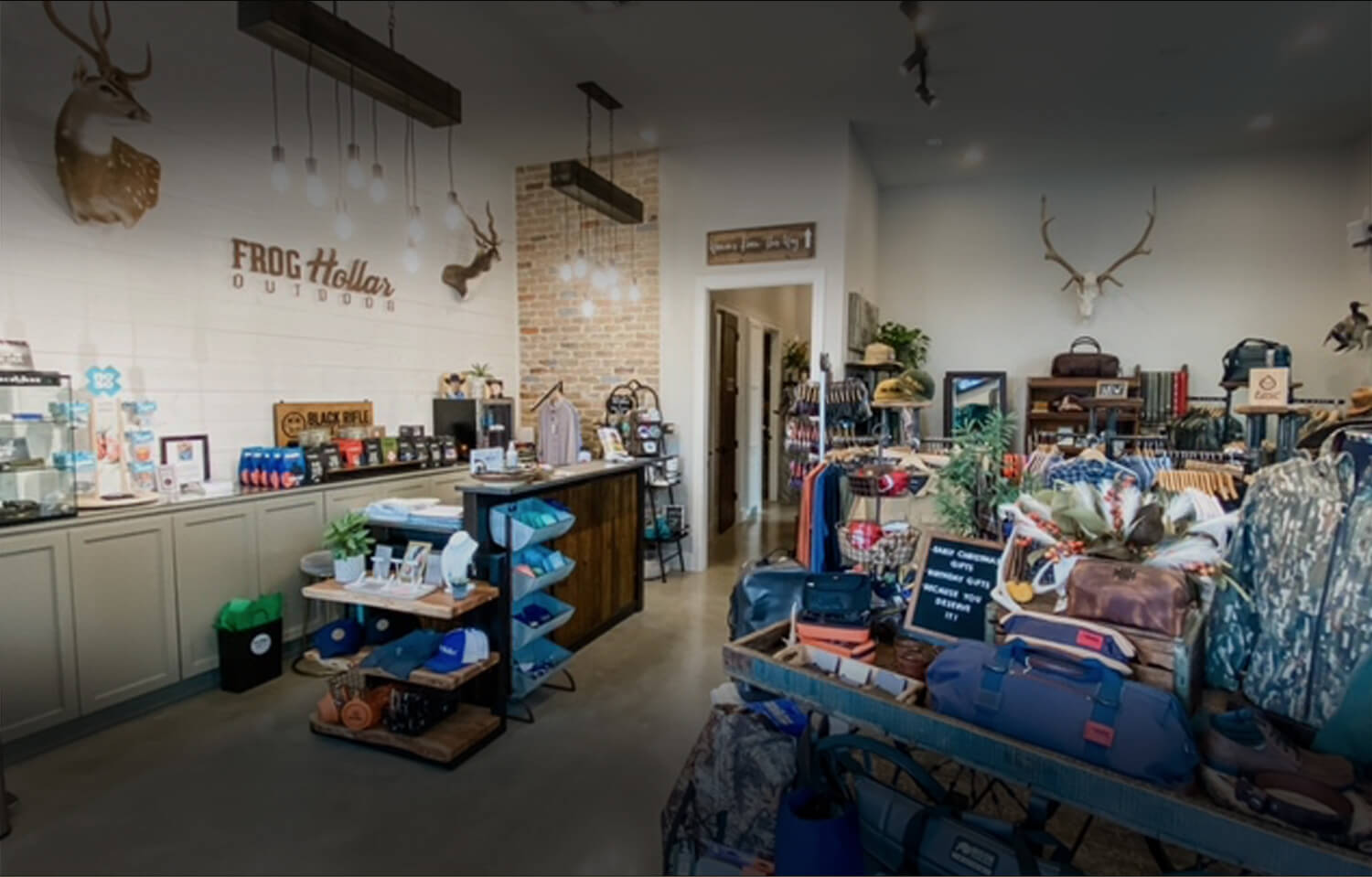 Frog Hollar Outdoor was founded by Ryan and Julie Kirkland in 2019. The name comes from a country road in Julie's hometown in North Texas. Ryan's cousin has lived on this road for 40+ years, so they loved the connection to them both. Ryan and Julie enjoy spending most of their time outdoors when possible. Their love for hunting, spending time on the lake and at their family land in North Texas inspired the brand. Frog Hollar Outdoor was created to represent nature, back roads, bonfires and spending time with family and friends.
Frog Hollar Outdoor opened their Brick and Mortar store in December 2020. They inspire to have a high-end quality boutique for men, women and youth. Families can find unique gifts from local vendors and many Texas based companies. They have created a family friendly and dog friendly environment as you will always be greeted by their store dog Dolly when you walk in.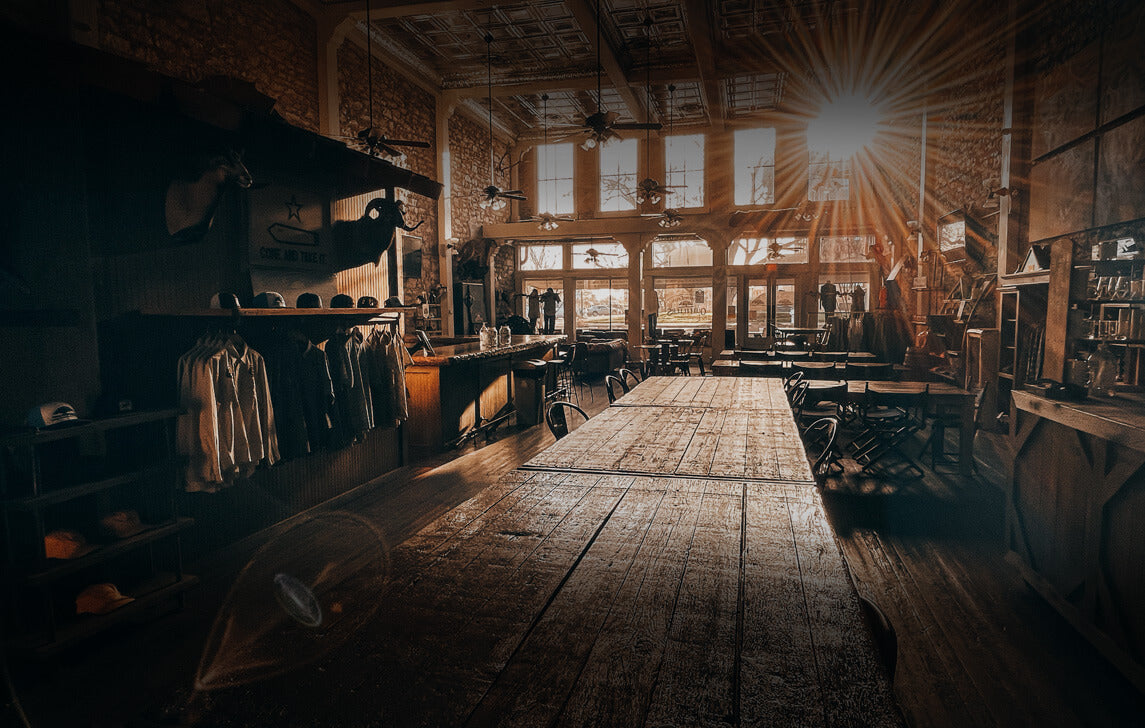 Mesquite Creek Outfitters opened November of 2016 in Georgetown, TX with the goal of providing high-end lifestyle apparel as well as craft beer brewed locally in Texas. Mesquite Creek has evolved into many different things for many different people over the last five years but remains a community gathering place. The owners, Brad Strittmatter and Cody Hirt, saw a need years ago for a place that sells quality clothing, but wanted to provide an experience that no one else had offered before—hence, the bar in a clothing store.
Jordana Hirt spearheads the retail aspect of Mesquite Creek and aims to bring in a variety of apparel to suit the most traditional outdoorsy man/woman while keeping up with trends and providing something everyone can love whether it be apparel, shoes, or jewelry.
Cody Hirt and Brad Strittmatter also co-founded Veterans Outdoors, a charitable non- profit that aims to support Veterans and provide a positive outdoor experience for them and their families. Opening MCO was a great opportunity for the non-profit to create a space where meetings can be held as well as a communal place to get together and meet like-minded folks. 
We are born Texan and take pride in our Texas ways.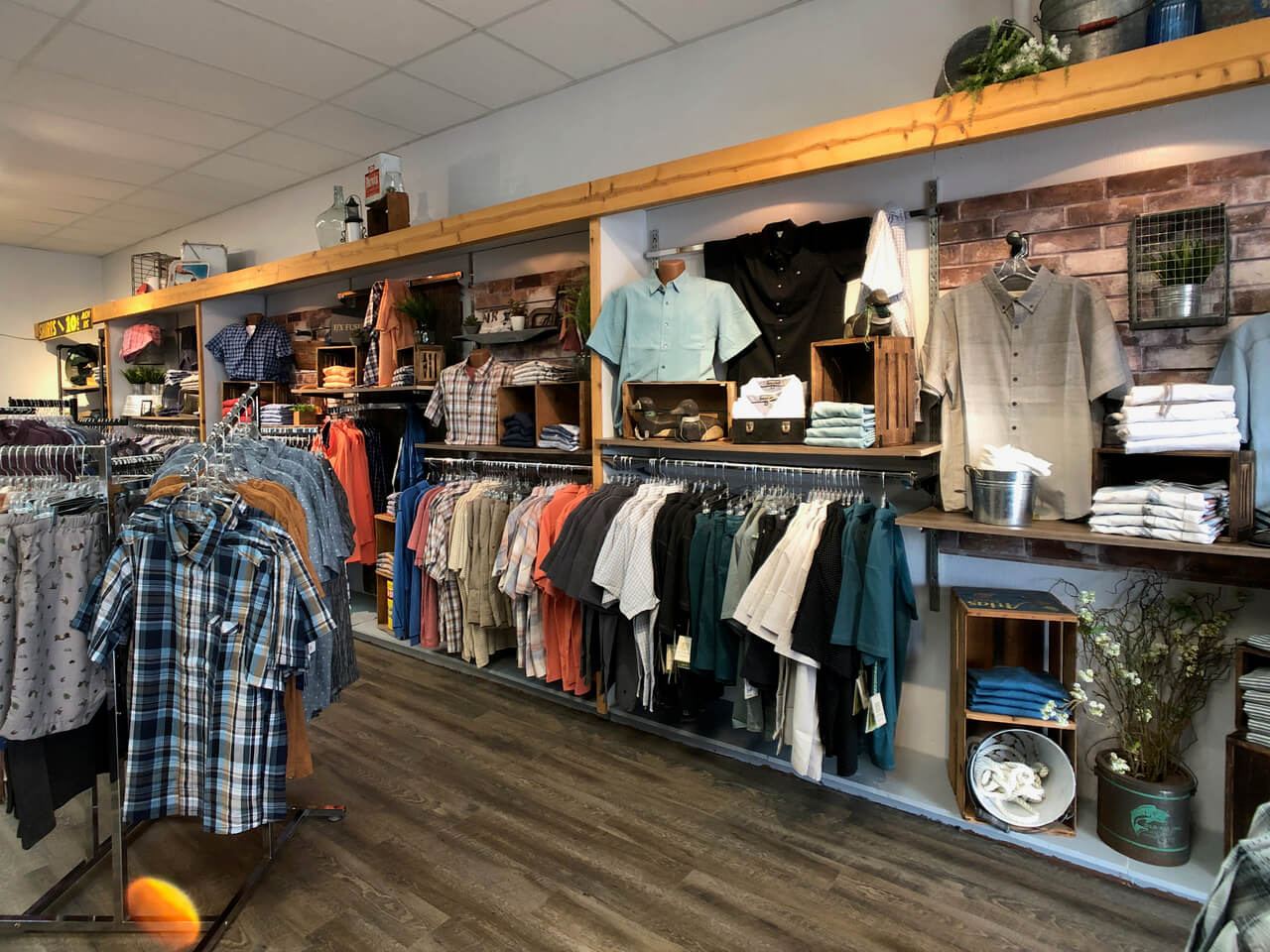 Lundrigans Clothing was started in 1937 by Ed & Mabel Lundrigan in Walker, MN. Their story is one that we cherish and talk about often. It is their vision and perseverance that has driven our success for 80 years. 
At Lundrigans Clothing, quality and durability has always been their promise. Since 1937, their commitment has been to bring you unique, yet classic, clothing for men and women. Lundrigans outstanding service and timeless fashion have brought their dedicated customers back for over 80 years. It's the casual comfort of a summer at the lake, it's owning something with a story, it lasts for a lifetime, and it just makes you feel good.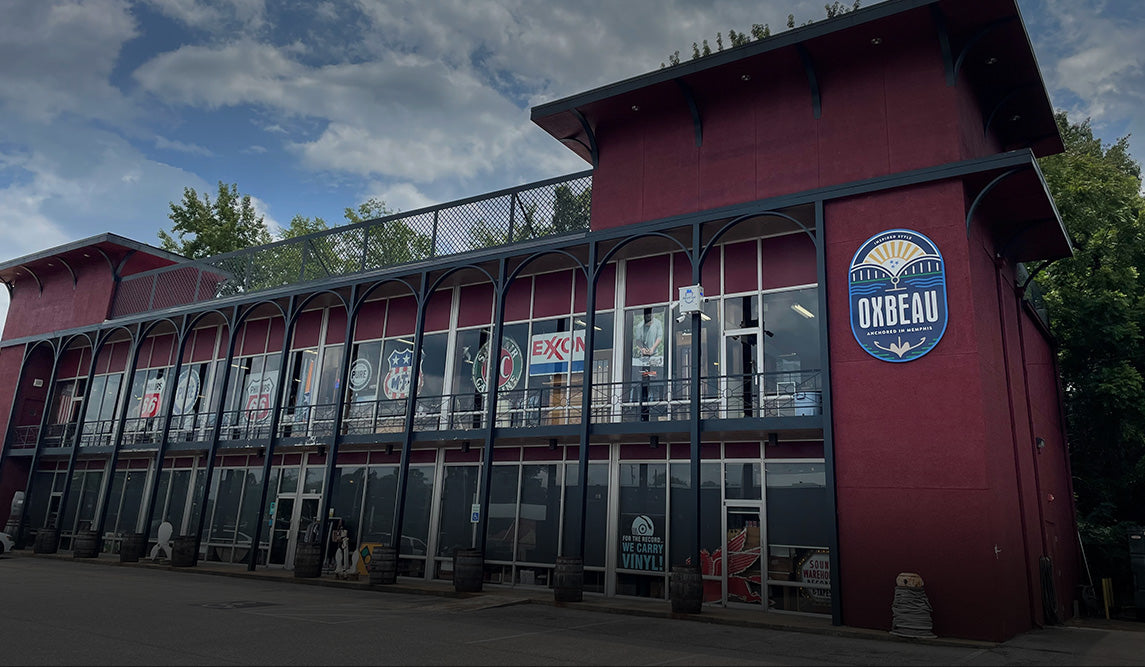 Over 70 years ago, our family navigated tow boats on the choppy waters of the mighty Mississippi River. Through tributaries and oxbows, our ancestors created a life on the untamed river and came to call Memphis their home.
After all of these decades, we still call Memphis our home. The river once again inspires us to create a distinct and original service for our city and its visitors—OXBEAU.
Oxbeau is your destination for inspired style - clothing and accessories with comfort, quality and well-suited for any occasion. The Oxbeau shopping experience offers Memphis-themed gifts and tees, vintage vinyl, sports memorabilia, hunting and outdoor gear.
Heart and soul go into creating a unique shopping experience in which service and individual styles matter for every person. We will bring you trending and original brands that are a reflection of Memphis and everything it has to offer.
Since 2012, our customers have trusted us to listen, be authentic, and to help them step out of their comfort zone from time to time, without pressure. That commitment holds true today. As an independent family owned business, we make decisions that align with our core values: family, faith, and community. We offer customers a remarkable shopping experience while strengthening Oxbeau's commitment to the Memphis area.
Anchored in Memphis.
Raised on the river.